I enjoy teaching face-to-face geology at Chandler-Gilbert Community College where we conduct experiments, and observe. I believe geology should be taught both as content & a process, with a hands-on, discovery approach, & with a sense of humor. I also teach hands-on science to little folks in China during our winter and summer breaks.

For 25 years I served as a technical writer for the Nonlinear Geophysics Group (EES-17) t Los Alamos National Laboratory, home of the Manhattan Project. I also have built energy-efficient tiny houses.
I am a native of the Colorado Plateau - Winslow - and have worked for the BLM at the Anasazi Heritage Center in Dolores, Colorado and for the National Park Service as an interpretive ranger at Kilauea (Volcanoes National Park) and Glen Canyon/Lake Powell. I have lived and worked in Pago Pago, American Samoa and Athens, Greece. I enjoy mountain biking, hiking, travel, playing acoustic guitar badly, gardening, writing, computing, studying environmental issues focusing on sustainability and alternative architecture, & spending time with loved ones.

Education
M.S., Earth Science, Northern Arizona University (1991)
B.A., Behavioral Science and Education, Grand Canyon University (1976)
​Experience
2006-Present, CGCC, SMCC & PVCC, Adjunct Professor, Geology & Sustainability
1996-2023, Los Alamos National Laboratory, EES-3/11/17 (Geophysics), Technical Writer
2000-2006, North Canyon High School, AP/IB Physics, Earth Science, Webmaster, Science Bowl
1995, Grand Canyon University, Adjunct-Arizona Geography
1992-2000, Sunrise Middle School, PVUSD, 7th Grade Science, Department Chair
1995, Hawaii Volcanoes National Park, National Park Service, Summer Interpretation
1991-1992, American Community School of Athens, Athens, Greece, Science and Math
1986, Anasazi Heritage Center, Bureau of Land Management, Interpretation
1985-1991, PVHS, Advanced Earth Sci, Earth Sci, Biology, Soccer
1985, Glen Canyon/Lake Powell National Recreation Area, National Park Service, Summer Interpretation
1984-1985, Shadow Mountain High School, General Sci and Biology
1981-1983, Samoana and Tafuna High Schools, American Samoa, Physics, Physical Science, Yearbook
1977-1981, Paradise Valley High School, Earth and General Science, Cross Country, Track
Publications
CGCC Geology 110/111 Course Curriculum & Lab Manual, Environmental Geology and Disasters, 2019-23
CGCC Geology 101/103 Course Curriculum & Lab Manual, Introduction to Geology, 2019-23
CGCC Geology 102/104 Course Curriculum & Lab Manual, Historical Geology 2019-23
Northern Arizona Study - Field Trip in a Can
EES-17 (Geophysics) - Los Alamos National Laboratory Website (Site no longer maintained.)
Earth Science 1 & 2: A One-Year On-Line Course for pvONLINE & Lecture Series
Campsite Beach Suitability Survey in Grand Canyon Survey 1991
Letter to Mom, 1985
Science in the Wilderness: A Field Guide, 1981
Sunrise Middle & North Canyon High School Web Sites - Original
Awards
Outstanding Adjunct Faculty Award CGCC, 2020
Outstanding Adjunct Faculty Award Nominee, PVCC, 2015
ExxonMobil Bighorn Basin Field Camp Faculty Award, 2015
Memberships
American Geophysical Union (AGU)
Geological Society of America (GSA)
Arizona Geologic Survey (AGS) - Former Education Liaison
National Association of Geology Teachers (NAGT)
En-ROADS Climate Ambassador
Conferences
Subsidence Features of Central Arizona Workshop 2020
GSA Conferences 2014, 2015, 2016, 2017, 2018, 2019, 2020
AGU Conference 2019
2YC GSA Workshop, Seattle, Advancing Research in Community Colleges 2017
Arizona Energy Futures Conference 2016, 2017, 2022
Miscellaneous
Bringing Real-World Geologic Data to the College Classroom: A Conversation with Professor Jeff Simpson - Arizona Geological Survey
​​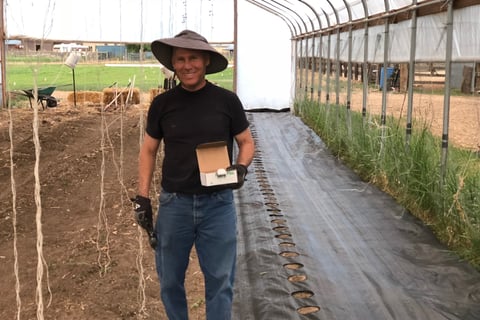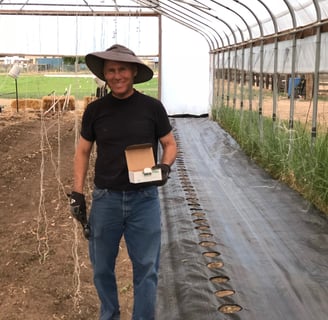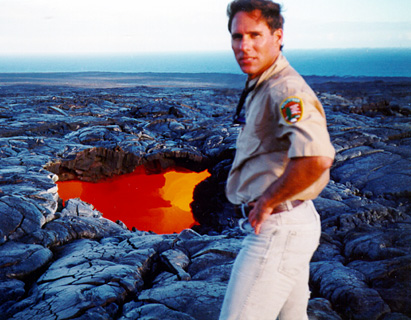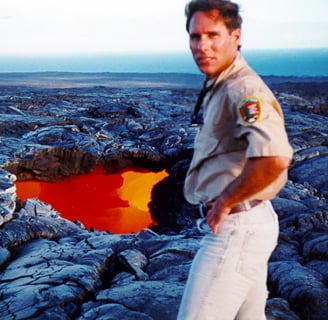 Planting tomatoes in a hoop house in Salida, Colorado.
Lava from the Pu'u 'O'o volcanic vent on Kilauea runs to the ocean beneath me in 1995, standing next to a skylight - a collapsed lava tube roof.
Best course if have taken at CGCC so far. Professor Simpson is so helpful and interactive. Love it! - On-Line Anonymous, 8/15/22

Thank you for your teaching style with the hands on activities and having the class introduce each other (especially virtually), along with the constant comments and assurance you provide with every assignment. It is not something I am used to and wish other instructors would take up in their teaching methods. I am really grateful I had the opportunity to participate in this class, one of the best experiences with school and learning I have ever had. I wish that it could have been in-person, but I will carry this information with me everywhere. Thank you... - Lilian G, Summer 2021, GLG110IN
I just wanted to personally thank you for making this class the great experience that it was. This is the first time in a while that I took a science class, excelled greatly, and actually enjoyed the homework. This semester surely ignited a passion for geology, and a personal goal will be to continue learning about this subject. - Joyce S, Summer 2021, GLG101IN
This class was very well done. It was refreshing having a course with a professor that is passionate about the material and conveys it even in an online platform. The case report video presentations were a really nice touch to add a personal element to the course. I also thought you did a good job of presenting the information in a "lighter" fashion even when the material can be ominous. Keep up the dad-jokes! :) Lastly, I want to thank you for being a great teacher! You do a great job and this was one of the only courses that I really had wished I had done in person for some of the elements. I thoroughly enjoyed the material and noticed your hard work and dedication in formatting an efficient and fun course. I'm very appreciative of your work! :) - John O., Summer 2020, GLG110IN
Your class was so fun, and I loved expanding my knowledge on geology, thanks again. - Camille K., Summer 2020, GLG110IN
Thank you for all your help last semester; you really affected my life greatly. Keep it up! I hope we can stay in contact, I'd enjoy having you as a resource as I continue my path into sustainability and conservation. - Christian L., Summer 2020, GLG110IN
Thank you for being a wonderful teacher! I will miss geology class! Take care. - Rylee H., Spring 2020, GLG101IN
​I really enjoyed this class, one of my favorites for sure. I'll be sure to try to find you teaching other geology classes and register for those. I'll keep in touch, thanks for a great class. - Kyle C., Spring 2020, GLG101IN
I just have to say thank you for all your hard work put into this class! You are passionate about what you do and what you teach and it shows. You have been very flexible and helped me learn a lot of new and great things in this class. One of the best courses I have taken during all my time in college. I may be graduating next December but I will always remember this class. I also noticed how you grew and adapted in your accessibility to the course content and Canvas as a whole. Thank you so much and Merry Christmas! - Coleton W., Fall 2019, GLG110IN
Thanks for the hundreds of hours you spend on helping us learn and develop new interests. I have loved learning about the miracle of our amazing planet and how things work. It fascinates me . - Erin S, Fall 2020, GLG101
Jeff is the best professor I have ever had. He is extremely funny, but also makes the class very easy to understand. Every time you have class you will laugh at least 1-5 times. Everything he teaches is taught in a very understandable manner. There will be no other class as easy and fun as this, and there will rarely be another professor like Jeff. - May 7, 2020, RateMyProfessor.com
Jeff is by far the most enjoyable teacher I've ever had. He is incredibly charismatic and brings this energy to make an enjoyable atmosphere within the class. The class felt more like a group of friends learning about geology rather than a college lecture. It's also very clear that Jeff cares deeply about students and he wants to make learning fun. - May 7, 2020, RateMyProfessor.com